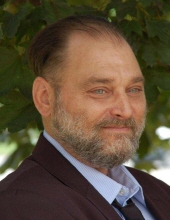 Obituary for Blake Richard Caspary
Blake Richard Caspary 56, of Sullivan passed away peacefully at 11:35 p.m. Saturday, August 17, 2019 in his sister's home with his brother Jay by his side.
Graveside services will be held 10:30 a.m. Wednesday, August 21, 2019 at Greenhill Cemetery, Sullivan. In lieu of flowers memorials may be made to the Moultrie County Counseling Center, 12 West Harrison St., Sullivan.
Blake was born December 17, 1962 in Shelbyville, the son of Bert Richard Caspary, Shirley Ann (Weber) Caspary and birth mother Elaine (Mullikin) Caspary. He enjoyed reading and writing, spending time with family and friends and spending time outdoors.
Blake is survived by his brother Jay (Barbara) Caspary of Maumelle, AR; sisters, Gay (Ronald) Schulte of Centreville, VA, Jan (Paul) Behm of Grapevine, TX and Amy Jo (Tom) Pope of Sullivan.
He was preceded in death by his father, mother and birth mother.
Cemetery Details
Location
Greenhill Cemetery
Sullivan
Sullivan, IL 61951