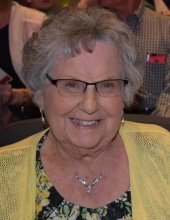 Obituary for Donna Lee (Tarr) Wiggle Shackelford
Donna Lee (Tarr) Wiggle Shackelford of Cerro Gordo, Illinois, formerly of Lake City, Illinois, passed away at 7:25 a.m. Wednesday, August 28, 2019, at Fair Havens Christian Village in Decatur, Illinois.
Funeral services will be held at 3:00 p.m. Sunday, September 1, 2019, at Prairie View Baptist Church, Lake City. Visitation will be 5:00 to 7:00 p.m. Saturday, August 31, 2019, also at Prairie View Baptist. Burial will be in LaPlace Cemetery immediately following the service. Memorials may be given to Prairie View Baptist Church in memory of Donna. McMullin-Young Funeral Home is in care of the arrangements.
Donna was born March 16, 1935, in rural Jasper County, Illinois, the fourth of 13 children born to Ray and Okal (Bixler) Tarr. She was a loving wife, mother, grandmother, great-grandmother, sister, aunt, and friend to all; homemaker; Certified Nursing Assistant; Sunday school and Vacation Bible School teacher; and a faithful member of Prairie View Baptist Church in Lake City for 58 years.
Donna married Charles G. Wiggle on October 17, 1953, in Robinson, Illinois. Three children were born to Donna and Charles – Patricia Lee, Debra Sue, and Charles Keith. They were married just shy of 56 wonderful years. Charles preceded Donna in death on October 9, 2009.
Donna married Dr. William H. Shackelford of Cerro Gordo on September 24, 2011. "Doc" and Donna enjoyed going out to eat, gardening, and visiting his patients together up until his retirement in November 2018. Doc preceded Donna in death on December 4, 2018.
Donna loved entertaining family and friends around her dining table. She was well-known for her yeast rolls, chicken and noodles, pies, and wonderful baked goods.
Survivors include her children – daughters, Patti (Lawrence) Albert of Decatur; Debbie (Tom) Gentry of Sherman, Illinois; and son, Keith (Joy) Wiggle of Mt. Zion, Illinois; 13 grandchildren, 11 great-grandchildren, and her beloved dog, Betsy. She is also survived by her sister Mary Belle Smallwood of Westfield, Illinois; brother Gerald (Barbara) Tarr of Lovington, Illinois; and brother Wayne Tarr of Dietrich, Illinois.
Donna was preceded in death by her parents, both husbands, six brothers, and three sisters.
Previous Events
Visitation
Prairie View Baptist Church
2423 CR 500 E
Lake City, IL 61937
Funeral Service
Prairie View Baptist Church
2423 CR 500 E
Lake City, IL 61937