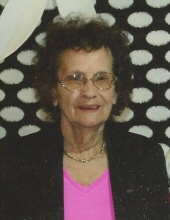 Obituary for Dorothy M. Wilson
Dorothy M. Wilson, 84, of Dalton City passed away at 6:16 p.m. Friday, December 21, 2018, at St. Mary's Hospital, Decatur.
Funeral services will be held 11:00 a.m. Wednesday, December 26, 2018, at McMullin-Young Funeral Home, Sullivan. Visitation will be held an hour prior to the service Wednesday at the funeral home. Burial will be in St. Isidore Cemetery, Bethany. In lieu of flowers; memorials may be made to the donor's choice.
Dorothy was born January 24, 1934, in Clinton; the daughter of Kenny and Mary F. (Taylo) Koonce. She married Lloyd Eckel and had three girls, Sue, Mary and Connie. She and Lloyd became divorced and later in life she married Leo Price. Leo and Dorothy became divorced and later she married Clarence E. "Bud" Wilson in 1969 and he had two girls, Kayla and Lou. Bud and Dorothy were married for 49 years, she said he was a keeper; he survives. She started working in Café at the age of 13 and the old owner of Café put her in charge of the business for two weeks while he went to Florida. She ran five different cafes before coming to Dalton City. She owned Café in Dalton city for 42 years, then retired in 2005 because of an illness. Dorothy liked to buy old homes and fix them up to sell or tear them down. In her later years she liked to be outside running the mower so she could look around and see things. She enjoyed living on the North side of Dalton City for many years.
Dorothy is survived by her husband, Clarence E. "Bud" Wilson of Dalton City; daughters, Mary Eckel of Mattoon, Connie (Don) Pygott of Mattoon, Mari Lou (Bob) Witt of Benton, MO, and Kayla Wilson of Weldon; sister, Delores Wise of Taylorville. She is also survived by many grandchildren and great-grandchildren.
She was preceded in death by her parents, daughter, Sue; siblings, Dean, Shirley and Donna.
Previous Events
Funeral Service
McMullin-Young Funeral Home and Cremation Services (Sullivan)
503 W. Jackson Street
Sullivan, IL 61951
Funeral Service
McMullin-Young Funeral Home and Cremation Services (Sullivan)
503 W. Jackson Street
Sullivan, IL 61951
Cemetery Details
Location
St. Isidore Cemetery
Route 2
Bethany, IL 61914