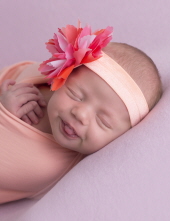 Obituary for Emmie Joleen Young
Emmie Joleen Young 5 weeks 6 days old passed away on July 1, 2019 in her home.
Private family services will be held at McMullin-Young Funeral Home, Sullivan. Burial will be in Hewitt Cemetery, Lovington.
Emmie was born May 14, 2019 in Centralia, the daughter of Shelby Futch of Salem and Braedan Young of Sullivan.
Emmie is survived by her parents; sister, Zola Dawn Lane; Maternal grandmother, Stephanie Slater of Marion; maternal great-grandparents, Randy and Brenda Behnke of Iuka; Aunt, Reese Futch of Ogden, UT; Uncle, Brice Slater of Flora; Paternal grandparents Mack and Joleena Young of Sullivan; Paternal great -grandparents, John and Betsy Barrix of Greenbrier, AR, and Kris Morgan of Sullivan; paternal great-great grandparents, Don and Janet Young of Sullivan, Harold and Nancy Barrix of Broadwell; Aunts Breanna Barrix of Sullivan, Trisha (Kalub) Ard of Sullivan; Uncle, Alex (Tiffanie) Young of Lovington. Emmie was loved by so many and will be deeply missed.
She was preceded in death by her Aunt April Dawn Futch.
Events