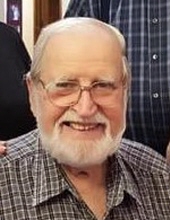 Obituary for Glenn E. Ryherd
Glenn E. Ryherd, 87, of Sullivan, passed away Monday, August 26, 2019 at Mason Point, Sullivan.

Graveside services will be held at 2:00 p.m. Saturday, August 31, 2019 at Greenhill Cemetery, Sullivan, with Military Rites by the Sullivan American Legion Post #68. The family will receive visitors at the Knight Building beginning at 4:00 p.m. following the graveside service. In lieu of flowers: memorials may be made to the Sullivan Senior Center, Elizabeth Titus Memorial Library, the Sullivan Fire Department, or the donor's choice. McMullin-Young Funeral Home is in care of the arrangements.

Glenn was born January 3, 1932 in Sullivan, the son of William G. (Bill) and Florence Kelley Ryherd. He was a 1950 graduate of Sullivan High School, a member of National Guard/Army, and was employed at USI in Tuscola for the majority of his working life completing 39 years of service as a turbine operator and trainer. He worked with his father and brothers in construction and could point out many local structures they built together, including putting basements under existing homes. Glenn was a member of the American Legion and attended church services at Mason Point. Education was extremely important to Glenn and he was proud of that he was able to make sure not only his children but other family members were able to further their education. He always said, "I was raised in a good family and I raised a good family."

He is survived by his daughters, Sandra (Joe) Ryherd-Niemeyer of Jonesboro, Arkansas, Julie (Oliver Dold) Sims of Decatur, Illinois, and son, Bill (Connie) Ryherd of Winthrop Harbor, Illinois: seven grandchildren, Drew (Jen) Niemeyer of Chicago, Illinois, Katherine Niemeyer of Sherwood, Arkansas, Elizabeth (Tyler) Hudgens of Fort Smith, Arkansas, Anna (Kyle Talley) Niemeyer of Dallas, Texas, Blake (Lisa) Doss of Maroa, Illinois, David and Caleb Ryherd, both of Winthrop Harbor, Illinois: great-grandchildren Brady and Drake Doss and Virginia Grace and George Clark Hudgens, one step-great grandchild; brother Duane (Mae) Ryherd of Champaign, Illinois, sisters, Pauline (John) Greenwalt-Hippard of Shelbyville, Linda (Joe) Ebel Martin of Richmond, Texas, special friend, Virginia West of Monticello, and many nieces and nephews. In addition to his parents he was preceded in death by a brother, Bill Ryherd, and a sister, Karen Ryherd Krebs.

The family would like to thank the administration and staff of Mason Point for allowing Glenn to live independently until his final days.
Previous Events
Graveside
Greenhill Cemetery
Sullivan
Sullivan, IL 61951
Post-Funeral Reception
Mason Point Knight Building
1 Masonic Way
Sullivan, Illinois 61951
The Knight Building is located on the North side of Mason Point.
Cemetery Details
Location
Greenhill Cemetery
Sullivan
Sullivan, IL 61951