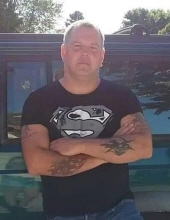 Obituary for Paul Wayne Betts
Paul Wayne Betts, 44, of Bethany, passed away, 12:24 a.m. Tuesday, September 10, 2019 in Decatur.
Memorial services will be held 11:00 a.m. Saturday, September 14, 2019 at McMullin-Young Funeral Home, Bethany. Visitation will be held an hour prior to the service Saturday at the funeral home. Memorials may be made in care of the family.
Paul was born March 12, 1975, in Decatur, the son of Forrest "Dick" and Francis (Hadley) Bodine. He married Sara Jean Butt on September 28, 2002 in Decatur; she survives. Paul was proud of and cherished his children, and grandchildren; his brother, Michael was his best friend. Paul will be missed dearly by all of his friends and family.
Paul is survived by his mother, Frances Elizabeth Bodine of Orlando, FL; wife, Sara Jean Betts of Bethany; sons, Joshua Betts of Mattoon and Mason Lee Betts of Bethany; daughters, Shelby Morrow of Bethany, Adrienne Betts of Effingham, Kassandra Betts of Bethany and Taylor Betts of Bethany; brother, Michael C. Betts of Findlay; sisters, Elizabeth Ellen Burford of Bethany and Tiffany Renee Betts of Orlando, FL. He is also survived by 10 grandchildren.
He was preceded in death by his father.
Previous Events
Visitation
McMullin-Young Funeral Home and Cremation Services (Bethany)
109 N. Lincoln Street
Bethany, IL 61914
Memorial Service
McMullin-Young Funeral Home and Cremation Services (Bethany)
109 N. Lincoln Street
Bethany, IL 61914