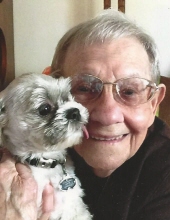 Obituary for Veronika Anna Burks
Veronika "Mausi" Anna Burks, 93, of Mattoon passed away 3:30 p.m. Thursday, October 18, 2018 at the Odd Fellows Rebekah Home, Mattoon under the compassionate care of many people.
Memorial services will be held 1:30 p.m. Wednesday, November 7, 2018 at Brookstone of Mattoon North.. Donations in her honor should be made to Lincoln Land Hospice or Coles County Humane Society.
Veronika was born September 11, 1925 in Fussen, Germany, the daughter of Veronika Anna Zettlemeier. Veronika married Harold D. Burks and came to this country, which she loved dearly, as a war bride. Veronika loved to tell stories of her life and she touched many peoples lives with her kindness and smiles. Her religious beliefs were very important to her. She was a very important person in the lives of her children, grandchildren and shared a special bond with great granddaughter Hannah.
Veronika leaves daughters, Ellie White, Peg Blue, Kelly Burks; grandchildren Amber (Ernest), Mariah (Matthew), Jesse (Sarah); greatgrandchildren Hannah (Suzi), Peyton (mom Amanda), Kate, Aubrey and long-time friends Doris, Joyce, and Shelley. She also leaves a sister Hannelore Kallenbach of Germany.
Previous Events
Memorial Service
Brookstone of Mattoon North
1920 Brookstone Ln
Mattoon, Illinois 61938